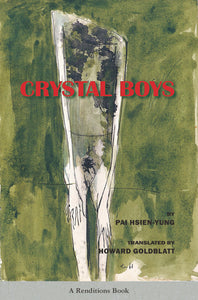 Crystal Boys
Regular price
$38.58
$0.00
Unit price
per
By Pai Hsien-yung
Translated by Howard Goldblatt
2017
352 pages
ISBN 978-7255-44-4
PAI Hsien-yung 白先勇 (born in Kweilin on 11 July 1937), one of the most celebrated fiction writers of global sinophone literature, is the 2003 recipient of the National Award for the Arts, the most prestigious life-achievement recognition from Taiwan. 
Crystal Boys 孽子 is widely known as the first gay novel in twentieth-century literature written in Chinese. First published in 1983, it was issued twice in traditional Chinese characters in Taiwan, seven times in simplified Chinese characters in the People's Republic of China, and pirated once in Hong Kong while in serialization in Modern Literature 現代文學, a journal founded by Pai in the fifties. Hugely acclaimed and critically canonized, Crystal Boys was filmed in 1986, made into a television series in 2003, and adapted into a play in English in 1997 and in Chinese in 2014 (this version teleplayed by Taiwan Public Broadcasting in 2015). Besides this English rendition by Howard Goldblatt, the novel is available in French, German, Dutch, Italian, Japanese, and Vietnamese translations. 
Since his retirement as a professor of Chinese from the University of California, Santa Barbara, Pai Hsien-yung has become an ardent promoter and producer of the traditional Kun operatic theatre and is responsible for the worldwide success of the new version of The Peony Pavilion. Amidst the many Kun activities, Pai found time to research the legacies of his father and came up with two major works on Pai Chung-hsi, a decorated four-star general of the Second World War. In 2016 and 2017, the long-anticipated three-volume Close Reading of "Dreams of the Red Chamber" 細說紅樓夢 was issued in Taipei and Beijing respectively. Multiflorate Splendour 奼紫嫣紅開遍, a documentary film on Pai's career, was released in Taipei and Hong Kong in 2016. 
"A master of portraiture."
—Henry Miller
"Presents vividly the oppressive power of the Chinese patriarchy and its torturous effects on its sons"
—Encyclopedia of Modern Literature in the 20th Century
"Fallen angels transformed into celestial beings."
—La Marseillaise, France
"A decidedly new language."
—Le Monde, France
"Rich and worrying like a flooded river, a poetic transcription of a realistic atmosphere, transfigured by the dreamlike veil of the night."
—Livres, Le Monde, France
"Amour sublime"; "a melancholy pioneer".
—Libération, France
"Pai is not for nothing Taiwan's most prominent writer."
—Trouw, The Netherlands
---
Share this Product
---