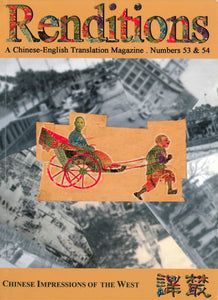 Renditions nos. 53 & 54 (Spring & Autumn 2000)
Regular price
$23.21
$0.00
Unit price
per
Chinese Impressions of the West
From the mid to late 19th century, educated Chinese as well as government officials began exploring aspects of Western civilization, their purpose to preserve China's nationhood. Excerpts from petitions, diaries and travelogues reveal the observations and experiences of government officials, diplomats, dissidents, scholars and students, those who journeyed to the West, as well as those who stayed behind. The issue also includes depictions of Westerners from popular journals and magazines.
'Renditions has pulled off yet another coup in masterminding this special double issue devoted to reports from the West by Chinese travellers in the 19th century.'
—South China Morning Post
'The early impressions and historical events continue to influence Chinese thinking today'
—L.Z. Yuan, Senior Advisor, China Program,
Asia Foundation.
---
Share this Product
---