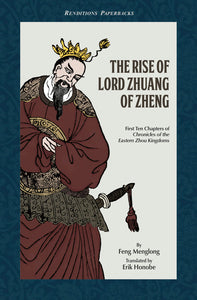 The Rise of Lord Zhuang of Zheng
Regular price
$13.94
$0.00
Unit price
per
By Feng Menglong
Translated by Erik Honobe
With a foreword by Robert E. Hegel
2021
xxxiii + 196 pages
ISBN 978-962-7255-48-2
This volume consists of the first ten chapters from the popular historical novel Dongzhou lieguo zhi, or Chronicles of the Eastern Zhou Kingdoms, by the renowned late Ming dynasty writer Feng Menglong. The stories, themselves adaptations of earlier texts, vividly recount the end of the Western Zhou and the rise of the cunning, ambitious Lord Zhuang of Zheng, the first overlord to have seized overarching power during the breakdown of order. Wise or fatuous rulers, loyal or renegade ministers, ill-fated beauties, and valiant generals take turns appearing on the stage of that chaotic yet thrilling era, their lives interwoven into this romanticized history which has been widely read for hundreds of years and will continue to attract future generations of readers.
Feng was a widely acclaimed compiler of anthologies of popular literature. His work includes collections of jokes, collections of classical-language stories and anecdotes, revised versions of novels, and the San yan collections of vernacular stories.
Erik Honobe, the translator, is Professor in the School of Global Studies at Tama University, Japan, where he teaches Chinese Literature and International Business.
---
Share this Product
---