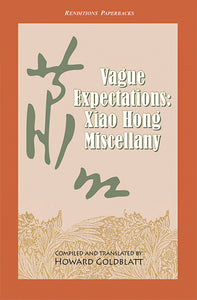 Vague Expectations: Xiao Hong Miscellany
Regular price
$13.94
$0.00
Unit price
per
By Xiao Hong
Compiled and translated by Howard Goldblatt
2020
264 pages
ISBN 978-962-7255-47-5
As a novelist, Northeast writer Xiao Hong has few peers. In the introduction to her maiden novel, Lu Xun, for whom praise had to be earned, wrote, 'Keen observations and an extraordinary writing style add considerably to [its] vividness and beauty. Its spirit is robust.' This plaudit came at the beginning of her tragically truncated career and life. Barely six years later, Mao Dun would write about another of her novels: 'Satire is here, and humour. At the start you read with a sense of relaxation; then little by little your heart grows heavier. Still there is beauty, slightly morbid perhaps but bound to fascinate you.' Less well-known, but equally impressive, is her corpus of stories, essays, and miscellaneous writing, most published during her short lifetime. The characteristics cited in the appreciations of the two titans of Republican letters are all visible in the two dozen pieces included in this volume. Little wonder that Xiao Hong is one of the most widely read, widely written about, and widely translated Chinese writers of the first half of the twentieth century.
Born in 1911, the year that the Manchu regime was overthrown, in Harbin, Heilongjiang, Xiao Hong began a writing career in 1933, gaining nationwide notice for her first novel, thanks largely to the patronage of Lu Xun, with whom she would develop a deep friendship. She was highly popular among writers and poets, who were her friends, and a host of countrymen and countrywomen, who were her fans, her reading public. She died in Hong Kong in 1942, only weeks after it fell to the Japanese.
Howard Goldblatt has translated a number of literary works from China and Taiwan, including the novels of Mo Yan, 2012 laureate of the Nobel Prize for Literature. A Guggenheim fellow and awardee of several literary prizes and grants, he lives in Colorado with his wife and frequent co-translator Sylvia Lin.
---
Share this Product
---